Memoriam:953
From VROC wiki
Memorial for Phil "Gunslinger" Thompson, VROC 953
The following is from the Memorial card at Phil's service; contributors were his father, Wally Thompson; step-mother, Shelby; and of course, his widow and soul-mate, Lynn.......
Phil Gordon "Gunslinger" Thompson, 50, of 16260 Franklin Turnpike, Dry Fork, VA died Friday, October 9, 2009 at Memorial Hospital of Martinsville/Henry County of injuries from a motorcycle crash earlier in the day. He was born March 7, 1959 in Martinsville, VA to Wally Thompson of Collinsville, VA and the late Peggy Craig Thompson. In addition to his mother he was preceded in death by his paternal grandfather, Henry Thompson and maternal grandparents, Charlie Craig and Bessie Oliver Craig and one step-brother, Billy Wingfield.
Phil was of the Baptist faith and was a retired truck driver from Lawrenceville Transportation of Roanoke, VA. Phil was an avid biker and twelve year member of VROC (Vulcan Riders and Owners Club). He recently underwent radiation treatment for cancer and was cancer free.
In addition to his father, surviving are his wife and soul mate, Lynn Roop Thompson of the home; step-mother, Shelby Thompson of Collinsville, VA; step-son, Matthew Kendrick of Dry Fork, VA; step-daughter, Brandy Kendrick of Dry Fork, VA; step-brother, Michael Wingfield of Texas; paternal grandmother, Hazel Gusler Thompson of Bassett, VA and special friends. Mr. and Mrs. Dale Shortridge and Amberly Shortridge of Princeton, WV, as well as, many uncles, aunts, cousins and extended VROC family from around the world.
A memorial service will be held at 3:00 PM on Saturday, October 24, 2009 at Norris Funeral Services Chapel with Pastor Tommy Willcockson of Richmond, VA officiating. The family will recieve friends on Saturday, prior to the service, from 1:00 PM to 3 PM at the funeral home. After the service, there will be a life-celebration for VROC members and friends who wish to attend at the home.
In lieu of flowers, donations may be made to the American Cancer Society, PO Box 3907, Martinsville, VA 24115.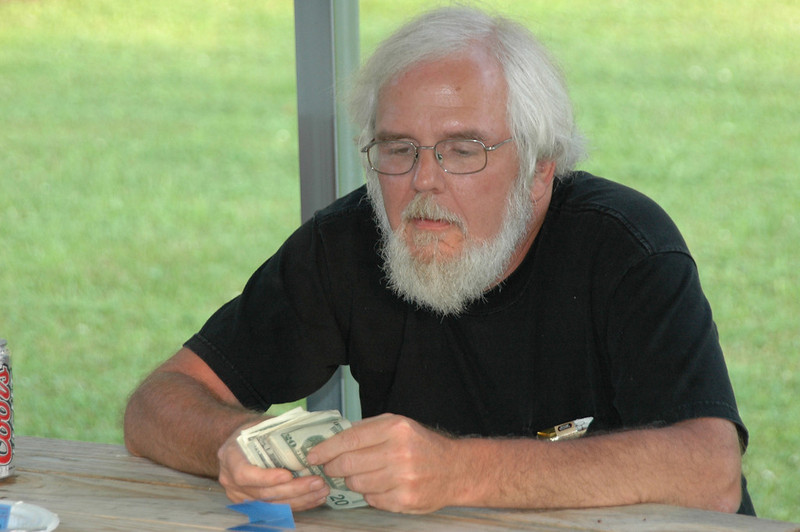 This is a picture of Gunslinger counting his winnings from the 50/50 draw at KSL in June, 2005.
Photo by Guns, V~2305
---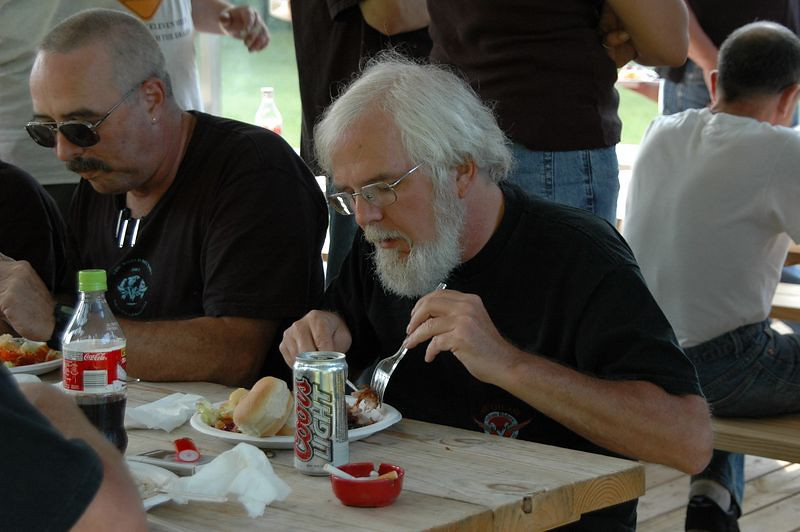 Gunslinger & Skid enjoying Fred's cooking at KSL in June, 2005
photo by Guns V~2305
---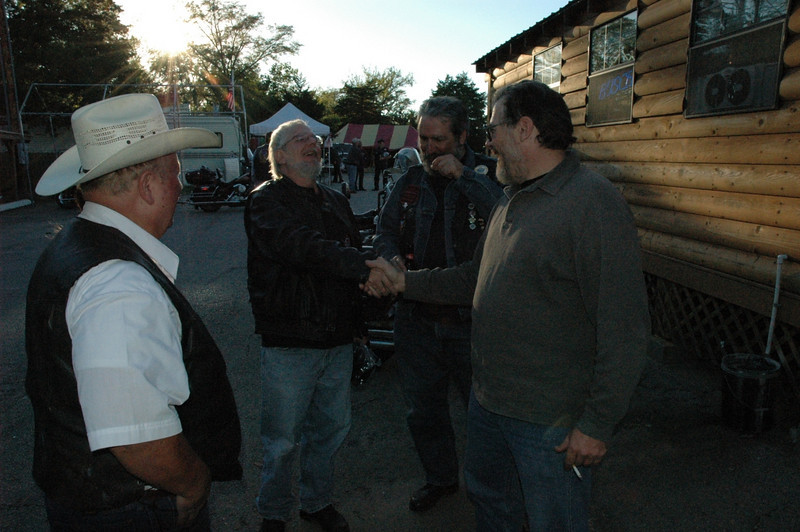 Phil, laughing and shaking hands with Snake while Chuck Burt (cowboy hat) and Lucky Al watches.
Three of our most beloved and respected members, gunslinger, snake, and Chuck, who are no longer with us.
---
Gunslinger in his rig at the VROC 2000 rally in Ignacio, Colorado
Photo by Toa #1614
---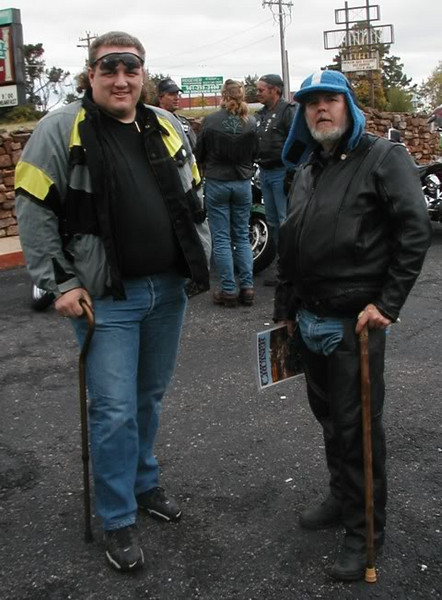 Gunslinger with Travis at the first Eureka Springs Rally in 2001
Photo by Toa #1614
---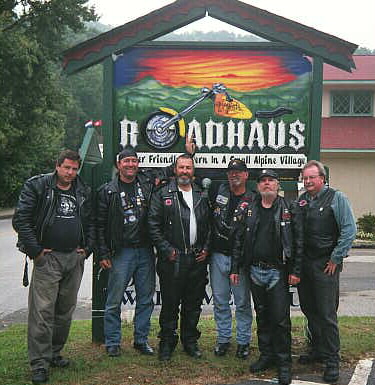 Helen, GA - with friends from Suches SEVROC 2000
Photo by Jazz
---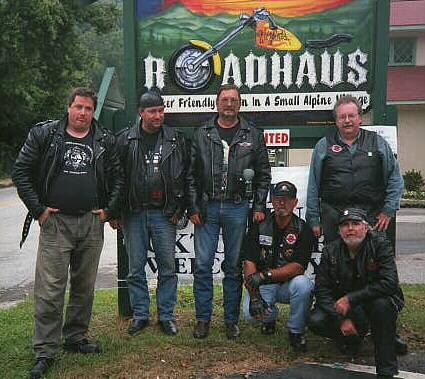 Another shot with friends at Helen GA, Suches 2000
Photo by Jazz
---