Memoriam:9147
From VROC wiki
VROC # 9147

Rest in Peace
May 1, 1955 - February 13, 2019


---
On February 14, 2019 Al's daughter Amanda notified us of the passing of Al "Lucky Al" Mottram:
Hi all... This is "Lucky Al's" daughter, Amanda posting from his account. I am sorry to say that my
father suffered a heart attack and passed away at home on Wednesday, 2/13. I know he valued his
relationships with many of you and that this group brought a lot of joy to his life. Al's son and
my brother, Andy Mottram is also a VROC member.


From the obituary for Alfred Lindsey Mottram III:

Alfred "Chip" Mottram passed away on Wednesday, February 13, 2019 at his home. He was 63. Chip grew up in
Cedar Knolls, NJ and lived in Whippany, NJ for the past 40 years. He was a member of the graduating class of
1973 at Whippany Park High School. He graduated from William Paterson University and received his MBA from
Fairleigh Dickinson University. He served in the U.S. Army. Chip worked in the pharmaceutical industry for many
years, most notably for Sandoz/Novartis and Medarex. He was a member of the First Presbyterian Church of
Whippany, where he served as an elder.

After retiring in 2014, Chip enjoyed acting, motorcycling, blacksmithing, karaoke, and spending time with his family.
He is survived by his wife of 42 years, Barbara (Racz), two children: Andrew and Amanda Mottram, grandson
Clifford Mottram, and sisters: Gale Johnson and Jamie Mottram.

All are invited to attend his memorial service on Saturday, February 23, at 10am at The First Presbyterian Church of
Whippany, 494 Rt 10, Whippany.

---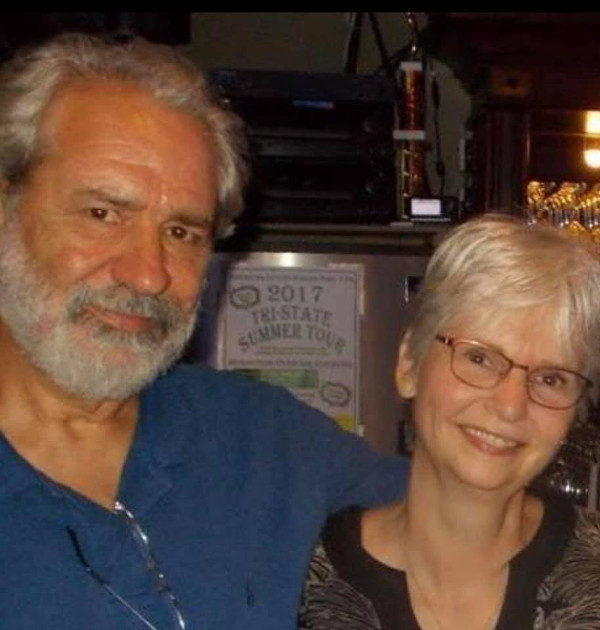 Al and his wife of 42 years, Barbara.


---
A very heartfelt memorial post from Jim "Skid" Robinson. This post represents a few
of the many good times many VROC members shared with Al.


I went through my photos from the Eureka Springs Reunion last September and found a few with Lucky Al. I must have hundreds from all the gatherings we shared over the years.
I remember way back when Al ran out of gas five miles short of the Lazy River Campground coming the the NEVROC Laconia Rally. After Joe arranged for fuel, he dropped his Nomad in the deep treacherous sand in the campground. It's around then I remember him being referred to as "Lucky" Al.
No one will forget his custom cooler luggage and the story about getting a third floor room at a Super 8 with no elevator.
I remember signing as a witness to his completion of the Iron Butt Bunburner Gold (1500 miles in 24 hours) in Deadwood SD.
He and I shared three rainy days in a Chev Avalanche as I hauled both of our Wings from ES to WWR in Williamsburg, Va in 2012. Sandy was traveling with Sherm.
We won't mention the bathroom incident at Motel 62 for which he was totally exonerated.
I gave him a ride to the George Brothers show a few years ago. He wasn't very experienced on the pillion and was also a tad heavier than what I was used to. Randall George saved us from falling over when we pulled in and then never let us forget it. Al saved face with his rendition of For All The Girls I Loved Before.
Al actually let me plug a leak in his front tire at ES and then rode back to NJ on the fixed tire. I though he knew my reputation with things mechanical.
And last fall, we shared that ride to Branson and then around some back roads with Magellan and Hancock. Plus the ride to Jasper and the awesome Hot Sauce BBQ. People chuckled when we parked our two Wings together, each with their VROC licence plate.
The more it sinks in, the more I realize I have lost more than a friend. I have lost a brother and I know many others feel the same way. Rest In Peace, Lucky Al, and save us a seat. We'll be along in a while.


---
VROC condolences to the family
of Al "Lucky Al" Mottram.

Rest in peace Al.