Memoriam:8571
From VROC wiki
Normie "Abby Normal" Hein
VROC # 8571

Rest in Peace
September 15, 1955 - March 2, 2016


---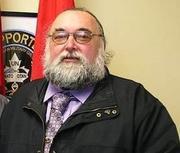 From the obituary for Normie "Abby Normal" Hein:

"To you from failing hands we throw the torch. Be yours to hold it high... "
It is with heavy hearts that we announce the passing of Norman "Normie" Carl Hein peacefully on Wednesday, March 2nd, 2016 at Maison Vale Hospice at the age of 60 years.
Norm was a long time member of the Liberal Party of Canada and the Ontario Liberal Party. He was the creator of the S.T.O.P. Program, second longest serving member of Action Sudbury, A founding member of the Freedom Riders Motorcycle Association of Northern Ontario, Inc. When the community called! Norm answered that call, he volunteered for the Canadian Special Olympics, National Summer Games, S.K.I.P, Operation Red Nose, Sudbury Santa Claus Parade, Operation Life Saver, Wellness Days, Arrive Alive Bottle Drive, Canadian National Boxing Championship, MCTV/Lions Club Christmas Telethon, Grad Extravaganza, Sudbury Rocks Marathon, Salvation Army Kettle Drive, C.P. Holiday Train and many more.
Norm would often purchase hot meals and hand out those meals to the homeless living on the streets of downtown Sudbury.
A southern Ontario colleague wrote: "Norm, you have been such an inspiration to so many of us, touched so many lives, helped make so many changes for the greater good." Another colleague wrote: "You are an inspiration Norm in so many ways." Another colleague wrote: "You are loved by so many people and appreciated for all that you have given of yourself" and another colleague wrote: "Normie you have done so much for the community giving your time up to many organizations....Your accomplishments will never be forgotten"
In 2003 Norm was the recipient of "The Outstanding Achievement Award For Voluntarism In Ontario". The Province of Ontario presented the award at a gala held in Science North.
Norm was a long time employee of the Sudbury Trial Plan. The Vice President of the Sudbury Trial Plan wrote: "I also want to thank Norm for the many years running operations at the STP. Organized snowmobiling owes him more than anyone can imagine in this area. He will be missed and leaves a big hole to fill. I miss him already"
Norm is survived by his sister Heather Maltais, niece Pam Mailloux (husband Dave) niece Diane Maltais (partner Dave Bowers) and nephew Phillip Maltais (wife Bobbie-Jo). He will be missed by great nieces and nephews. He will be missed by his special friends Gary & Cheryl Lamarche.
---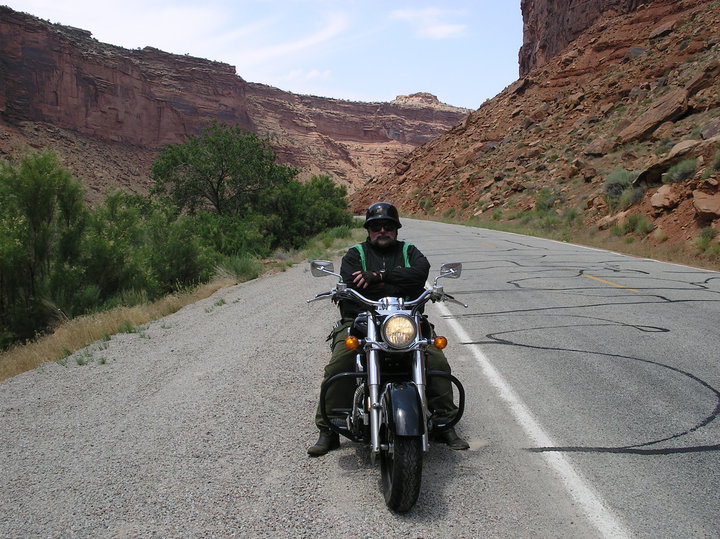 Normie, lost in Utah and peeved that someone made him stop to take his picture.
---
The following is from the blog of Jim "Skid" Robinson, VROC # 1850, a longtime friend of Normie

I met Normie around 1980 when we both joined the Nickel Riders Motorcycle Club. He was unique back then, known for his distinctive laugh and his penchant for wearing sunglasses at night. He rode a Yamaha and he rode it hard.
As the Nickel Riders was winding down in the late 1980's, Normie moved on the the Bikers Rights Organization (B.R.O.) and then became a founding member of the Freedom Riders Motorcycle Association. Somewhere not long after, he traded the Yamaha on an AMF period Harley Sportster. He "enjoyed" the Ironhead for about a decade before moving on. Biker and I were riding Kawasaki Vulcans, so Norm bought a 1500 Vulcan Drifter and became a member #8571 of the Vulcan Riders and Owners Club (VROC). He signed up with the nickname Abby Normal.
Around 1990, Normie and a friend attended a meeting of the Valley Trail Masters snowmobile club. I was there in my capacity as Vice-President (Operations) of the Sudbury Trail Plan Association, the umbrella organization for eight local clubs including VTM. VTM was electing directors. I convinced them that Normie would be an asset, so they drafted him. In 1992, when I moved up to STP President, I needed someone to replace me as VP-Ops and recruited you-know-who. The following year, when I convinced the STP Board that we needed a full-time staff operations person, Normie was the ideal candidate. He held that position for the rest of his life, making immeasurable contributions to organized snowmobiling both locally and across the province.
In 1992, Norm and I attended a meeting called by Sgt. Lynn Beach of the Ontario Provincial Police to discuss a rash of recent snowmobile fatalities. It was determined that alcohol was the main factor and that the police did not have sufficient resources to deal with it. We moved STP Trail Wardens in to assist while Norm researched Ontario legislation and prepared a proposal to appoint trained volunteers as Special Constables to enforce the Motorized Snow Vehicles Act. Thus, the Snowmobile Trail Officer Patrol (S.T.O.P.) Program was born. This had an immediate and demonstrable impact on reducing snowmobile fatalities where it was in place. Ironically, the program was cancelled February 12th of this year by myopic bureaucrats. Norm was the last of the original 14 STOP Officers to be serving.
Action Sudbury - Citizens Against Impaired Driving is a local activist group started in 1984 by Sudbury Mayor Peter Wong. Norm joined them in 1994 and was the second longest serving member at the time of his passing. He was recipient of both the provincial Peter Wong Award and local Rollande Mousseau Award recognizing his contributions to the cause.
Over the years, Norm an I had a shared background in motorcycle clubs (I followed him to the Freedom Riders in the mid-90's), organized snowmobiling and sober driving activism. That said, there were many other aspects of his life that I wasn't part of, like his support and involvement in the local music scene, his generosity to the homeless in our area, sky diving and his earlier career with Pinkerton's. I do remember handing a paycheck to his father Carl (Employment number 8200 IIRC) every Tuesday at INCO's Garson Mine every Tuesday in the early 70's long before I knew Normie. Memorable ran in the Hein family.
Normie was well known for his involvement, but his greatest strength was his ability to get other people involved. Many people in many places are there because Normie convinced them that they should be. He inspired a personal loyalty like no one else I have ever seen. When he believed in something, he became a force multiplier.
It was good that Norm had a chance to see how much he was appreciated when groups of local musicians staged Music For The Soul, a two day benefit February 11th and 13th at the Towne House Tavern. The assembled folks from across a broad spectrum of Sudbury citizens bespoke the high regard in which he was held by so many.
Rest In Peace, Normie. You will be missed by many. Love Honour Respect
I need to make special mention of Gary and Cheryl Lamarche. When Norm was diagnosed and it became apparent that he would not be able to live on his own, they took him into their home. He stayed there until last Thursday when he moved to Maison Vale Hospice. Their love and care for a friend went way above and beyond and are proof that angels walk among us.
---
---
---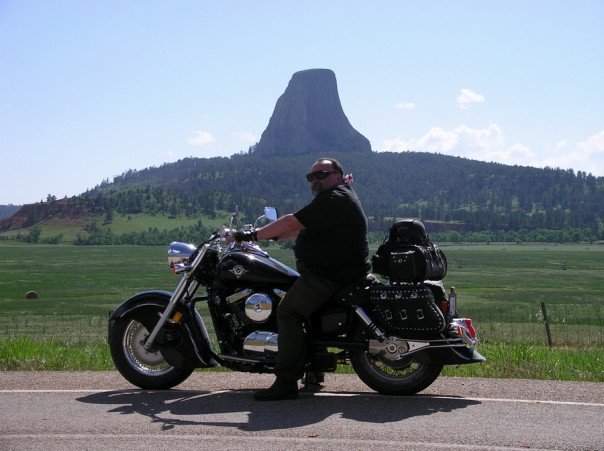 Normie just figured out where he was in Wyoming


---
---
VROC condolences to the family
of Normie Hein.

Rest in peace Normie.