Memoriam:735
From VROC wiki
VROC # 735

Rest in Peace
September 14, 1935 - February 7, 2014


---
The following post was received from Scott "Hotsauce" Sprankle:
It is with much sadness and more than a little grief that I must pass on the news that
Lyle "Gator" Goodin ~V~735 has gone on ahead to join the others on the big ride in the sky.

Sometime overnight, February 5th-6th, Lyle passed away peacefully at home. He was having
some undetermined medical problems and had lost the use of his legs, he also had recently
been hospitalized for a couple of weeks.

A lot of us knew Gator, I love him like my own father; a decorated combat vet, father, and
one hell of a motorcycle rider and mechanic. Much of the knowledge in VROC about our
motorcycles stemmed from stuff he started; he sure taught me a lot.

We should honor him by passing on some stories here if ya got 'em
I'll be drinking a Miller Lite (his brand) in his honor tomorrow.

Ride well Gator, you're a good man, led a good life, and now you're at peace. Watch over us,
keep us between the ditches.

With much love, we'll miss ya.

HotSauce & Margot
~V~2064 & 1561
Elgin Oklahoma, where the wind blows....

---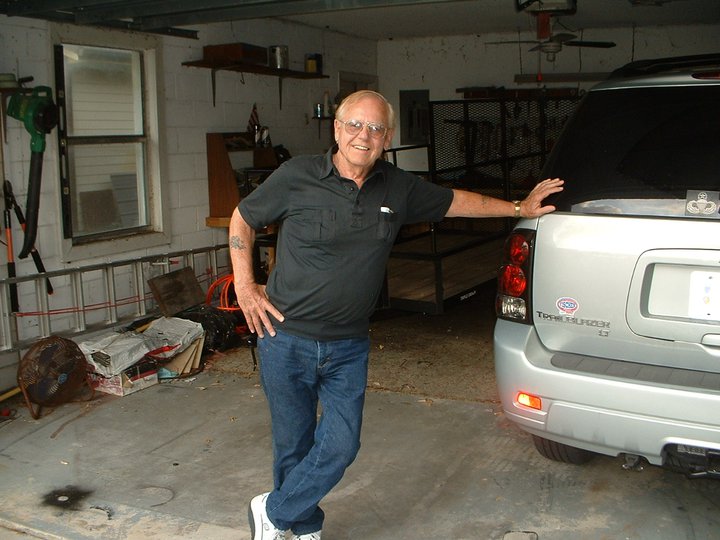 ---
By Jim "Skid" Robinson:
Sandy and I first met Gator at Twosies. Fall 2009 SEVROC. We rode down from the north with Jester, Bugsplat and Shannon. Met EZ and family in Ringgold and Margot at McD's for breakfast. Then Curtis led us north. The first stop was Twosies where we met two reprobates, Cowhat (remember HIM?) and Gator. After reading his posts for a year, he was nowhere near what I pictured. (In fact, Joker is the only one who ever looked like I imagined). I got the VROC patch I wear on my vest to this day from him right there and then.
HotSauce and many others will remember the day rides from Lake Lure. Invariably, the weather would turn and the riders would come back wet and cold after being assaulted by wind, rain, hail, microbursts and tornadoes. Lyle and I had a plan. We would wave goodbye to the intrepid riders. The we would ride all the way to Bat Cave. On the way back, we would stop for ice cream in Chimney Rock. Then we would adjourn to the Tiki Bar and wait for the ride survivors to trickle in with their tales of woe.
Tom was right about the looking and driving. We went to Red Dog's from the Geneva one night in Gator's pickup. Luckily there was no back seat so he was never looking more than 90 degrees from the road. But that was interesting as we crossed the Eastern Continental Divide.
I found this article from 1966 a while back. If you scroll around, you can see what Uncle Lyle earned his Purple Heart for.
http://news.google.com/newspapers?nid=1870&dat=19660529&id=mXwtAAAAIBAJ&sjid=R8kEAAAAIBAJ&pg=2647,6450865
The tales are endless and the memories are permanent. I'm going to miss him.
RIP, Lyle. You earned it.
Skid - Sudbury Ontario Canada
---
By Scott "Hotsauce" Sprankle:
The cow... So Gator and Mike were eastbound on two lane hwy 46 right at dusk, the
pregnant cow comes up out of the ditch from the right. Gator and Mike were
staggered just a little, Gator to the right rear. Mike just missed her by
inches, Gator drilled her broadside, killing the cow, calf and his Kaw Nomad.

The next morning, I get a phone call from Gator. He tells me what happened and
I hook up my trailer to go get the bike and see Gator. I wear my black and
white cow hat to memorialize the cow.
The Nomad is bent in the middle, both bags ripped apart, obviously totaled. I took
it to the local dealer to wait for the insurance guy.

I went to Gator's house, there he is, in bed. Both hands were wrapped up because
he never wore gloves. Road rash, cracked ribs, scuffed head. Obviously hurtin', so I
put my cow print hat on the bedpost and told him he earned it. He laughed, then cussed
because laughin' hurt. We talked about his bike, he told me about the crash and all that
adventure. I asked him if he was gonna start wearing gloves, he said "hell no", so I
asked him the obvious question... "Gator, you're hands are all wrapped up and you can't
use them, so who's gonna wipe your butt?" We laughed... he cussed... we laughed some more.

It wasn't long, he was back on a bike. Gator was 63 years old when he had that wreck. He
was a hard, tough, man's man, with a heart of gold, it was an honor to be his friend.
I too spent a couple of nights at his place, when we rode to Suches a couple years running.
He did get up early

Funny thing happened to me this morning. I woke up smelling fresh coffee at 4am. I got
up and checked the kitchen, no, my coffee pot hadn't started on its own. A little haunting,
damnit Gator you do get up early.
Thank you.

HotSauce & Margot
~V~2064 & 1561

---
By Traveller, VROC 10832:
Bought a used 99 Green Nomad in 2003. Learned of the POG problem, posted on this
board, & got an immediate response to come down to his Airplane hangar in Titusville and
he would fix it. I'm thinking, you gotta be kidding! Well, bought the SOG kit from Bob in
Watkinsville and rode to Titusville (100 miles). First thing, his 12 year old son starts
taking the side cover off and pulling the old POG. I am truly nervous at this point. Slick
as a whistle Gator puts in the new SOG, keeper falls into place, and he buttons it up. At
this point I have my doubts that I will make it home. I did and the bike rode perfect for
another 30,000 miles.

I ask what I owe him and he says, "Man this is a brotherhood. No money involved".
He then advises me to always wear gloves when riding because he hit a COW at night on the same
route I taking home. He slid on his hands and could not wipe his ass for a month. And that is
my favorite memory of Lyle.

Traveller
---
By Susan - Zmean1:
RIP Gator, hope you riding with a smile on your face.


Gator was the first VROCer I ever met. I went to a Hotsauce party and he
was the first person I passed by. We introduced ourselves and he said
"You're the Zmean1, you are a lot cuter than I thought you would be?"

He then asked me if I brought anyone with me, when I said yes,
he replied "Well, what did you do that for?" LOL!!

I enjoyed riding with and talking with Gator, he had some good stories.

Susan-zmean1
VROC#10169

---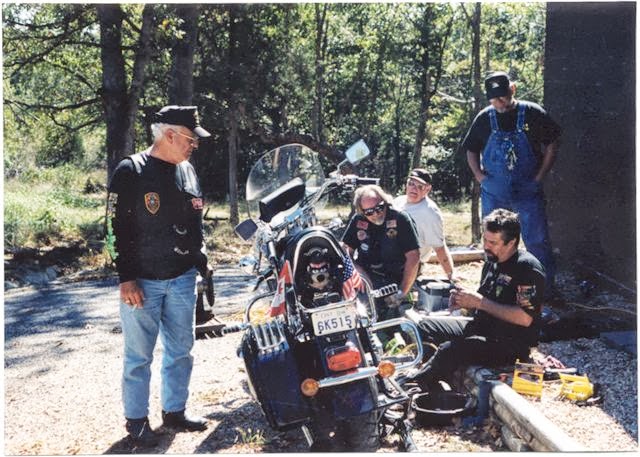 By The Mighty Stonewall describing Gator and Judge convincing him his bike was broken beyond all repair after they fixed it in Arkansas:

<chuckle>
Geez, I forgot about that!

I do recall Gator walking up to examine a part that Judge was holding up
in the middle of the repair. It went something like . .

Judge: This doesn't look good, does it.
Gator: No, it doesn't look good at all.

. . both with straight faces. Then Judge turns to me and sez,
"How do you plan on getting home?"

Remember, this was my first encounter with Judge so I had no idea of his sense of humour.
And the SOB stretched the job out the entire day till after sundown when I had planned
to go riding in the afternoon.

I thought for sure I was SOL while everyone else was in on it but me
What a day that was!

Gord

---
---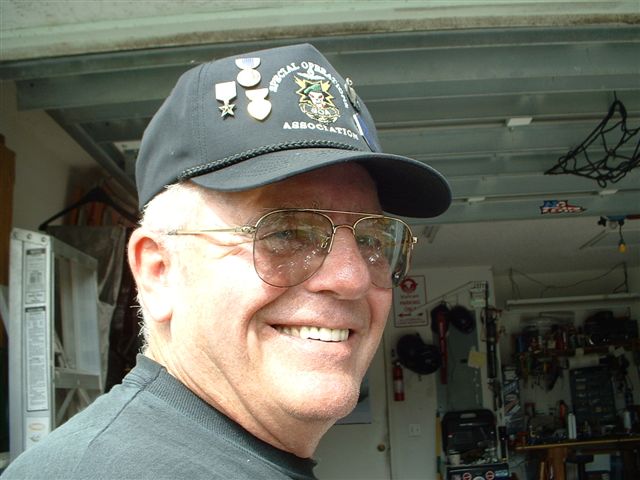 Gator at a Hotsauce mini-rally
---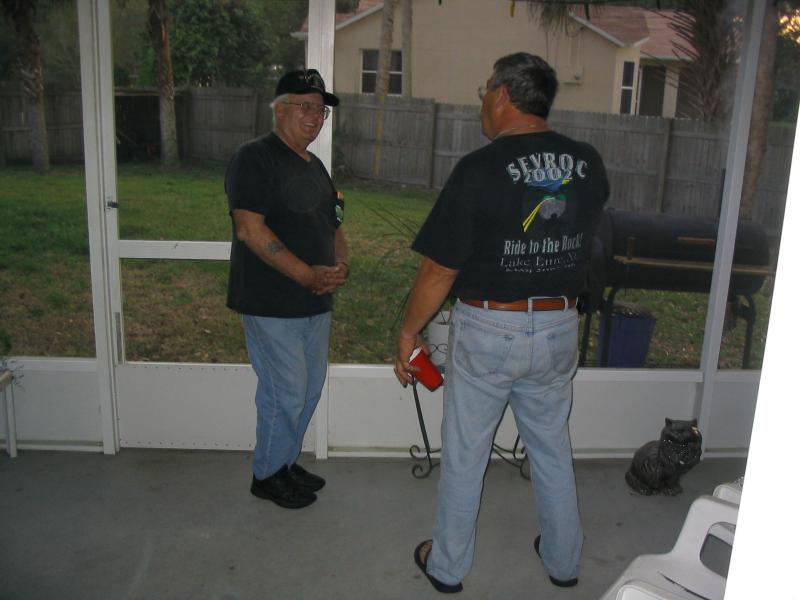 Gator talking to Scott "Hotsauce" Sprankle at the Hotsauce mini-rally
---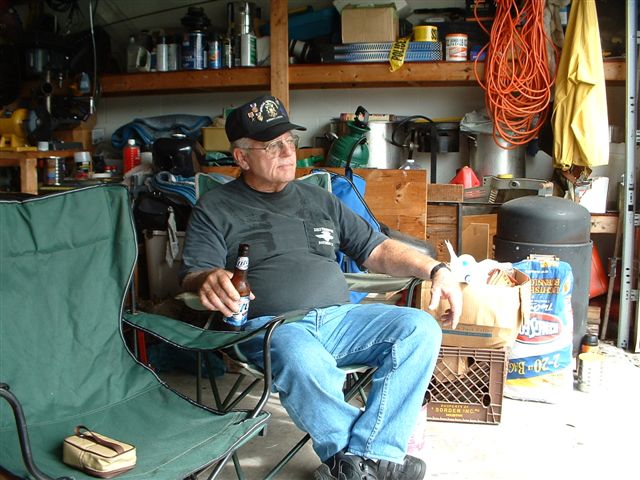 Gator at a Hotsauce mini-rally
---
An article from the 1960s describing Gators heroism in Vietnam where
he was wounded by a car bomb outside the U.S. embassy in Saigon.
Despite his wounds, he pulled four injured people from a bomb damaged
building just before it collapsed. For this, he was awarded a Bronze Star and
a Purple Heart.

---
Lyle is truly missed by all who knew him.
---
VROC condolences to the family
of Lyle Goodin.

Rest in peace Gator.