Memoriam:5679
From VROC wiki
Ronald "Chunk" Kiesling
Rest in Peace
December 2, 1948 - October 27, 2009
---
On October 27, 2009, one of our most beloved members, Ronald "Chunk" Kiesling passed away in his sleep.
His obituary follows:
Ronald J. "Chunk" Kiesling, age 60, of Jefferson passed away unexpectedly in Sparks, Nevada.
He was born on December 2, 1948 to Lyle and Florence Kiesling. He attended Jefferson Senior High and was in the US Navy from 1967 - 1980.
Chunk was active in and a past president of the Jefferson Kiwanis club, where he was honored by receiving the Hixon Award. He was also involved with a wide variety of different clubs and organizations, including the Jefferson Rock and Gem Society, the VROC Motorcycle Club, the Southern Wisconsin Bluegrass Association, the Havasu Gold Seekers Club, the Gemuetlichkeit Days Committee, and the American Legion Band, among others. Chunk enjoyed photography, painting, lapidary work, rock hunting, working on and riding his motorcycles, playing music, supporting the community and also had a life-long love of learning. He was the first to offer help and the last to seek recognition.
He is survived by his mother, Florence Kiesling, of Lake Havasu City, Arizona.
Chunk was very proud of his children and one grandchild and will be deeply missed by Adam Kiesling (St. Paul, MN), Ed Kiesling (Jefferson, WI), Sarah Kiesling (St. Paul, MN), and Mike Kiesling (Mesa, AZ), along with their mother, Donna Kiesling of Jefferson, and grandson Lazlo Kiesling.
He is also survived by brothers Norbert "Nubby" (Linda) Kiesling of Arizona, Larry (Kathy) Kiesling of Fort Atkinson, and sister Sharon "Shanny" (Jerry) Ellestad of Fort Atkinson. He is preceded in death by his father Lyle Kiesling.
Memorial services will be held at 4:00 p.m. on Friday, November 13, 2009 at the Schneider-Michaelis Funeral Home in Jefferson. Friends may call from 1:00 - 4:00 p.m. on the 13th.
Private family burial will take place at a later date.
---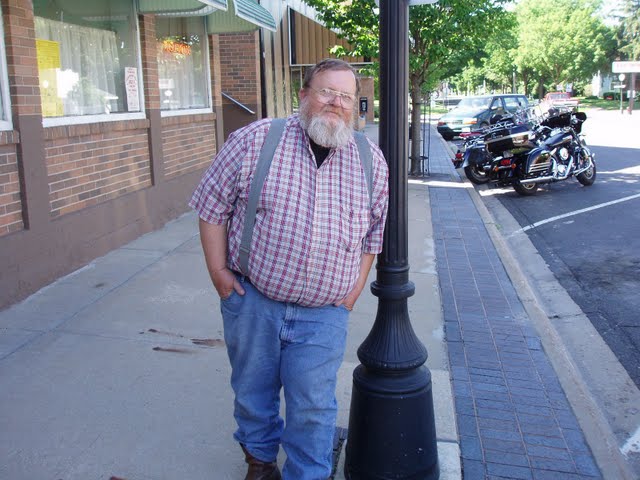 Picture contributed by Sheldon "Shelby" Conrad
---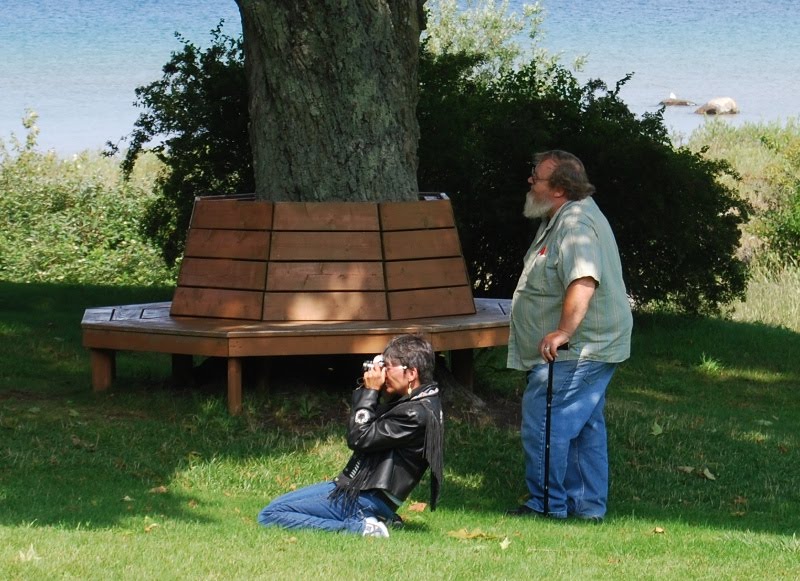 This story and picture was contributed by Dan "Kudzu" Jarvis:
Like many in the VROC family, Chunk and I started corresponding on the newsgroup. It started out when we first sent Chunk's son a care package overseas. His son liked sci-fi so I was eager to please (snacks and such sweetened the pot). I saw Chunk off and on and further corresponded with him about photography and manipulating digital images. He was always helpful and seemed to want to teach.
Last year, I met up with him at KSL and mentioned my son was getting ready to do his Eagle project. Well, if he didn't reach into his pocket a pulled out a ten spot and said, "This is for him, my son was an Eagle too." That was the very first donation my son got for his project.
We got to spend a lot of time with Chunk this year at Interlochen, sitting under the pavilion, around the camp site and on a nice tour, guided by him, to a couple lighthouses, a winery and some really nice roads.
This picture is at the Grand Traverse Lighthouse. Here, Chunk - with the patience of a learned master - was teaching KT about composition. He would spend as much time as she wanted and answered all of her questions, giving advice, making small points but staying back and letting her learn. This photo really shows how he liked to freely impart his knowledge to others. He was gentle, kind and generous.
Chunk, you'll be missed.
---