Memoriam:3253
From VROC wiki
VROC # 3253

Rest in Peace
November 27, 1958 - July 31, 2016


---
From the obituary for Dino Hutchings:

Rev. Dino Hutchings, 57, of Fort Smith, Arkansas entered into rest on July 31, 2016. He was born November 27, 1958 in Hibbing, Minnesota. He was a minister of music at Evangel Temple Church and owner operator of Hutchings Music in Springfield, Missouri from 1995-1998. He was preceded in death by his father Louis Hutchings and two brothers; Danny and Dewayne Hutchings.
He is survived by his wife Patty of the home, three daughters; Jessica Ryan (Charlie) of Van Buren, Joy and Jordanne Hutchings both of Fort Smith, four sons; Joshua and wife Rachel, Jonathan, Josiah and wife Saundra and Judah Hutchings all of Fort Smith, three grandchildren; Reese and Rhett Hutchings, and Zaylee Ryan, his mother Liz Hutchings of Marquette, Michigan, three sisters; Debby Hemstock of Lexington, Kentucky, Diana Whitaker of Rogersville, Missouri and Danette Hutchings of Minneapolis, Minnesota and two brothers; David Hutchings of Bossier City, Louisiana and Rev. Don Hutchings of Fort Smith. Memorial Service will be 10:00 a.m. Saturday, August 6, 2016 at Evangel Temple Church 1110 S 12th Street Fort Smith, Arkansas. Memorials may be made to Dino Hutchings Worship Center PO Box 1077 Fort Smith, Arkansas 72902. Cremation under the direction of Lewis-Roberts Funeral Chapel, Fort Smith.

---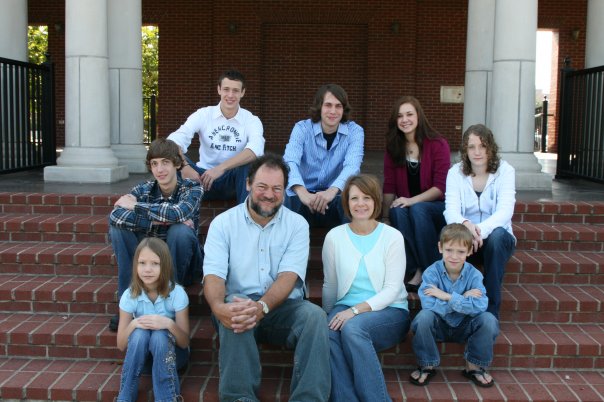 Dino and his family from 2008. Clockwise from lower left Jordanne, Josiah, Jonathan, Joshua, Jessica, Joy, Judah, Patty, and Dino.


---
---
---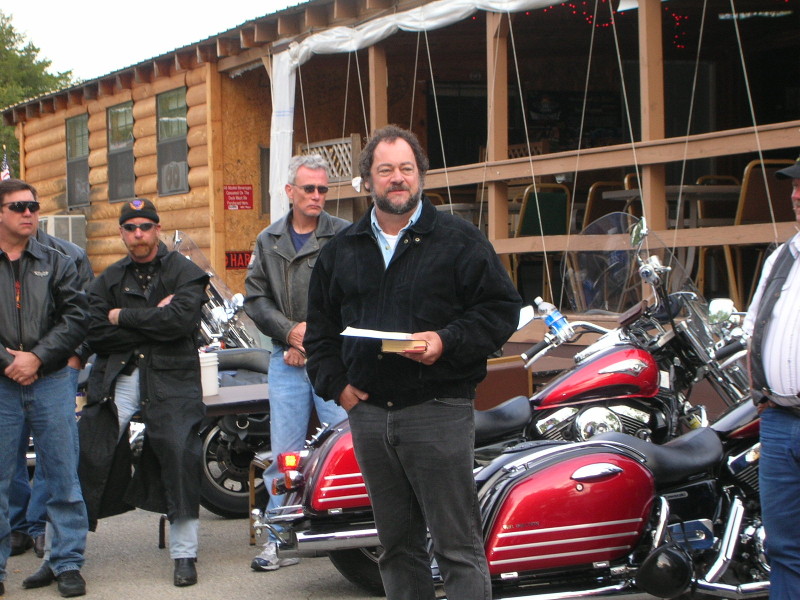 Dino at Eureka Springs 2005 with his Nomad and his bible. That was the rally many of us personally met Dino.
He prayed for me (Coyote) at that rally. Don't know if it will do any good, but, I can't think of a better
personal reference in heaven than Dino.
Thanks to Donna "Blondy" Robinson for the picture.


---
Dino was a man who truly lived his faith. He was well known for his "Sunday Morning Hope" posts on the VROC forums. He had a great love of life, family, and friends, and everyone was his friend. He will be missed by all who knew him.
---
From Eric "El Nomad" Larsen VROC# 12592
Dino "Lefty" Hutchings, VROC #3253, went to be with Jesus this morning at 11:20 Ft. Smith, AR time. Our family will miss his visits on his way to Sturgis. A wonderful Godly man, Dino prayed constantly for everyone. We now pray for Dino's family and the comforting presence of Jesus.


I first met Dino at Eureka Springs '05. I had missed the prayer service he had the one morning but I saw him shortly after that. I had told him about losing my wife, Belinda, the year before and was having a difficult time still with her passing. As Dino was always doing he prayed for me and made me feel better. I consider him my first real influence into my journey to where I'm at today in my faith.
We shall meet again, Dino!
---
Dino Hutchings Celebration of life on youtube
Dino Appreciation Day - Dinos family on youtube

---
VROC condolences to the family
of Dino Hutchings.

Rest in peace Dino.