Memoriam:27721
From VROC wiki
VROC # 27721

Rest in Peace
December 31, 2016


---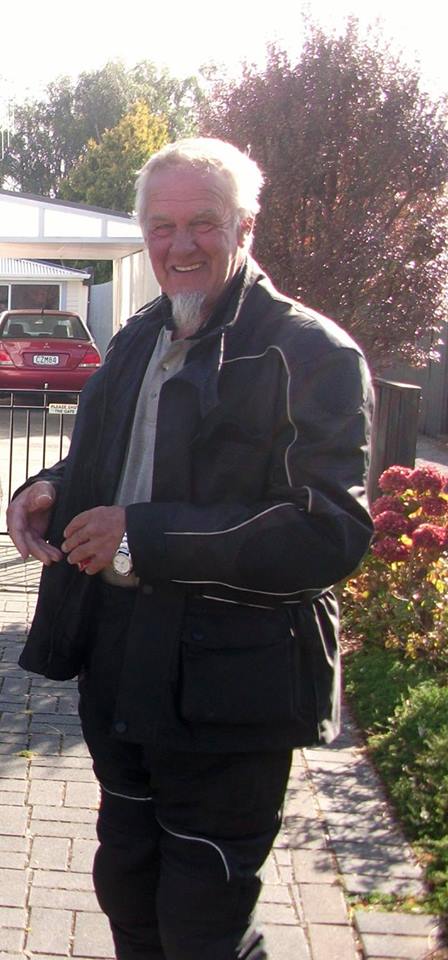 ---
From the death notice for Trevor Johns:

JOHNS, Trevor Charles: On December 31, 2016, at Hospice Marlborough, aged 67 years. Loved husband and best
friend of Annette. Dearly loved father and father-in-law of Christopher and Rebecca,
Tracey and Graeme and loved grandad of James(dec), Jessie-James, Brianna, Olivia,
and Yazmin. Messages to 3 Nursery Rd, Seddon 7210. Cremation has been held.
A celebration of Trevor's life and farewell will be held at The Cosy Corner in his
home town of Seddon on Sunday January 8th, 2.00pm start. The Cosy Corner is on SHW1 in
the centre of Seddon over the road from the Station, parking at the rear.
See more at: http://deaths.press.co.nz/obituaries/the-press-nz/obituary.aspx?n=trevor-johns&pid=183332375#sthash.FE10dkAS.z5o8UFJt.dpuf
---
Thanks to Howard "Jazz" Asplin for the following write-up:


I was asked to put together some words for the Ulysses National Magazine, and the
Marlborough Branch newsletter on our common member, the late Trevor Charles JOHNS (Horse).

I thought it might be of interest to a few here.

"Trevor Charles Johns
Ulysses 7688 NZ
Rode ahead on Dec 31, 2016 aged 67 years
Marlborough Branch, formerly Canterbury.

Although somewhat flattered to be asked to pen a few words about Trev, it soon became apparent
that writing obituaries is no fun. Trev has been a Ulysses member for most of the time I have
known him, although our friendship was kindled by our membership of
the Vulcan Riders and
Owners Club, VROC. He joined Ulysses in the Canterbury Branch soon after buying his treasured
Vulcan Nomad.

I thought I knew a bit about him, until at his Celebration of Life gathering I realised I knew
so little. How he got his nick-name 'Horse' while following Annette's equestrian and trekking
pursuits, and driving the chuckwagon. He was a stalwart in his community of Seddon, being involved
in a number of local groups who valued his advice and support on a range of issues. Locally he
seemed to have a 'growing old respectfully' ethos, but his Ulysses membership legitimised his
disgraceful side, which was even evident early in his adult life when he bought his first car,
an A40.
His courtship ritual included a record 99 laps of Cathedral Square in pursuit of the lovely Annette,
before he was sent home by the local bobby. He was obviously an early 'hoon' and so many of us can
relate to those night-time antics. At least he did not suffer the ignominy of 'on the 99th stroke
the bloody thing broke' as his formula was a winner and he and Annette went on to share a wonderful
life and family together.

Trev spoke often of the Blenheim Branch mid-week 'Retreads' rides, and was looking forward to
regaining his health to participate more regularly in branch activities. It was so good to see the
branch so well represented at his send-off. He was our VROC organiser in the South Island, and made
our annual rides every year, including the alternate South Island ride which he always organised
so well. Since we are in the main also Ulyssians, it seemed quite acceptable to carry forward the
disgraceful behaviour in that setting.

Trev was the consummate chat-up artist, who while staying at various back-packers would soon have the
young tourists at ease (while others of us with more disgraceful thoughts would cringe in either envy
or embarrassment!) If the truth be known he was the ultimate Mainland Ambassador, and spent most of his
energy with these young acolytes getting them to tour down south. No scenery in the north he would often
say 'come on down south'.

Trevor survived his working life in a number of jobs, more recently as a milk tanker and heavy plant
driver before retiring. He survived the Christchurch earthquakes, and after repairing his Glentunnel
home moved to a new life in Seddon, only to have another brush with earthquakes soon after. He had the
fortitude of Job, as not satisfied with that he took on the medics and achieved a clearance from
prostate cancer. He had another go late in 2016 with the illness, unrelated to the earlier prostate cancer,
that took him on News Years Eve, 2016.

I last saw him before Christmas and he was becoming quite frail, and suffering recurring bouts of extreme
pain. He asked me to service his bike, and store it, and he still took great pleasure in supervising the
process on a lovely sunny day. He told me his objectives were becoming short-term, and he was wanting to
enjoy a family Christmas in a couple of weeks.

He succeeded and his family were able to be with him. I haven't met anyone who thought ill of Trev.
As one of our friends said: 'He was a gentleman, and a gentle man'.

"Do not fear growing old, it is a privilege denied to many"

Howard
Ulysses 4594"

---
VROC condolences to the family
of Trevor Johns.

Rest in peace Trevor.