Memoriam:2490
From VROC wiki
VROC # 2490

Rest in Peace
June 22, 1940 - December 12, 2017


---

From the obituary of John Frederick Groves, Sr:


John Frederick "Fred" Groves Sr., 77, died early Tuesday morning, December 12, 2017 at his home. Fred was born
on June 22, 1940 in Kansas City, MO to the late Errett and Caroline McNutt Groves. Fred belonged to the Freedom
Riders Motorcycle Association of Northern Ontario and enjoyed riding his motorcycle as long as his health
permitted. He also loved to do historic camping. Fred worked many years for the Senior Services as an IT Tech and
served his country proudly in the United States Marine Corps Reserves. In addition to his parents, Fred was
preceded in death by stepdaughter Alicia Williams and stepson Shawn Rainey. He is survived by his loving wife
Jackie Fain Groves, son John Frederick Groves Jr. (Becky) of Richmond VA, stepsons Samuel Lee Morrison and
Steven Gray Morrison (both of King), sister Jody Davis of Sisters, Oregon, 9 grandchildren, 4 great grandchildren,
special friend Greg Bagshaw (who was always there for him) and many special friends in Canada and at Senior Services.


---
Comments from Jim "Skid" Robinson:


I met Fred "RoadRunner" Groves over fifteen years ago when he saw a post I made on the vroc Techtalk
newsgroup about the Freedom Rally that we were hosting here in Northern Ontario. He rode his Classic
up and camped in the field with the Freedom Riders and guests. I guess he liked it because he kept coming back
year after year and he kept pitching in and helping so much that the club suspended its attendance
requirements so that he could become a full-fledged Freedom Rider. He was much loved by his fellow club
members here in the Great White North and even managed to attend the rally this past summer despite his
health issues.

Rest In Peace, Fred. Love, Honour, Respect. You will be missed.

---
---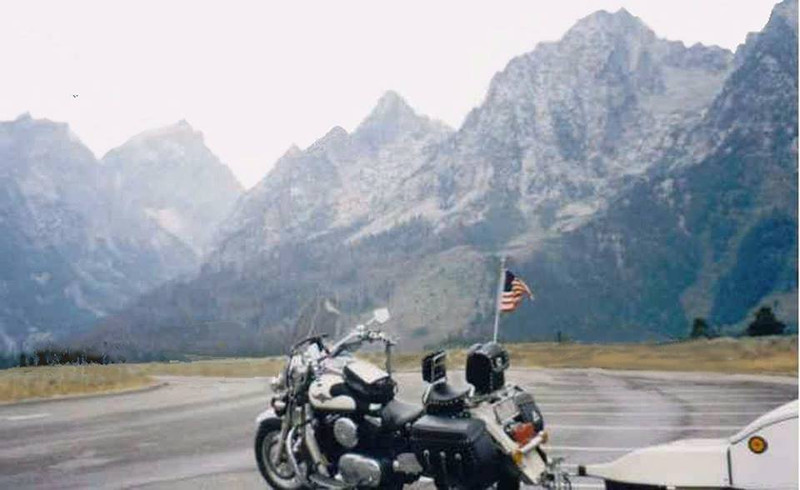 Fred's Vulcan and camper at the Grand Tetons
---
VROC condolences to the family
of Fred "Roadrunner" Groves.

Rest in peace Fred.