Memoriam:20663
From VROC wiki
VROC # 20663

Rest in Peace
April 18, 1951 - May 28, 2009


---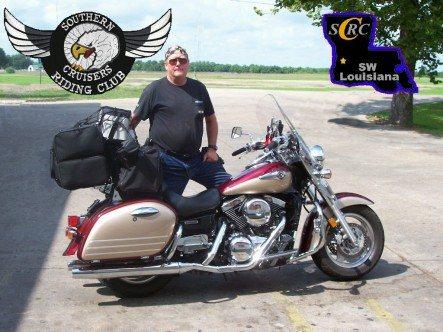 ---
From the obituary for Gareth A. Simmons:
Funeral services for Gareth A. Simmons, 58, of DeRidder, La., will be held at 10 a.m.,
Saturday, May 30, 2009, in Labby Memorial Funeral Home Chapel in DeRidder, with the Rev. Alan Knuckles
and the Rev. Jimmy Glass officiating. Burial will follow in Beauregard Cemetery, in DeRidder,
under the direction of Labby Memorial Funeral Home in DeRidder.

Visitation will begin at 8 a.m. until service time at the funeral home, Saturday, May 30, 2009.
Gareth passed away Thursday, May 28, 2009, at the Beauregard Memorial Hospital in DeRidder.
He was a long time resident of Beauregard Parish.

He retired from the Beauregard Parish Sheriff's Office after 14 years and was currently working
as a Correctional Officer at the Pine Prairie Correctional Facility . He was the First Officer of
the Southern Cruises Riding Club, Chapter # 152 of DeRidder and an avid motorcyclist .

He was preceded in death by his father, Sheldon Simmons and his sister, Shelda Lyn Cooley.
He is survived by his finance' Beverly Hughes of Lake Charles; mother, Veta Simmons of DeRidder;
sister Joanna Cooley of DeRidder; niece, Daisy Gonzalez of Converse, Texas; and
nephew, Bradford Nesbitt of DeRidder.

---
VROC condolences to the family
of Gareth Simmons

Rest in peace Spanky.