Memoriam:12098
From VROC wiki
VROC # 12098

Rest in Peace
June 27, 1953 - May 17, 2009


---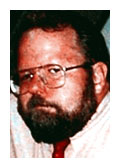 Mass of Christian burial for Charles Joseph Butterick, 55, of Justin was May 20 at the Assumption of the Blessed Virgin Mary Catholic Church in Decatur with Father Sojan Jorge officiating.
Born June 27, 1953, in Greenville, Miss., to Orin Daniel Jr. and Mary Jeanette (Kimble) Butterick, he married Karri Ann Bush June 4, 1981, in Indianapolis. He was a chemist/scientist for Poco Graphite Inc. in Decatur for six years, was a past Grand Knight of the Knights of Columbus and taught Bible and Catholic Continuing Education classes.

He is survived by his wife; sons, Samuel Butterick of Germany and Thomas Butterick of Afghanistan; daughter, Jenny Butterick of Justin; brothers, Chris, Jack, Mike, Tom and Robert Butterick; sister, Mary Mackin; and several nieces and nephews.

---
Chuck was a respected member of the DFWVROC group.

It was reported that Chuck apparently collapsed and died after mowing.


---
VROC condolences to the family
of Chuck Butterick.

Rest in peace Chuck.